Body Shop near Hammond, IN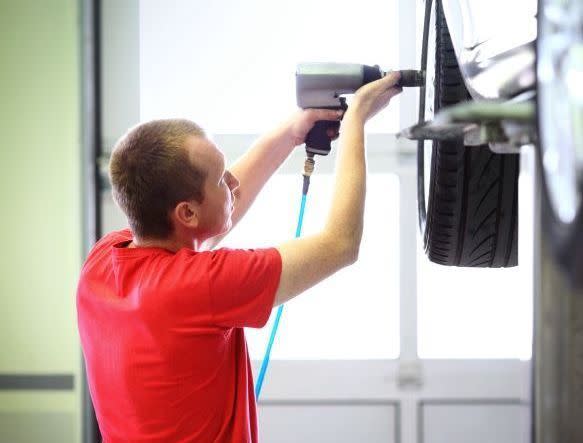 Testimonials
Great Customer Service
IN
11-13-2018
We got hooked up!
Indiana
1-9-2019
Enjoyable Experience
IN
3-12-2019
Best Service!
Highland
4-17-2019
Barb is amazing!
Indiana
5-13-2019
Customer Testimonial
6-2-2018
Customer Testimonial
3-1-2018
Customer Testimonial
3-2-2018
Customer Testimonial
3-22-2018
Customer Testimonial
2-23-2018
Customer Testimonial
12-28-2017
Customer Testimonial
12-18-2017
Customer Testimonial
1-6-2018
Customer Testimonial
1-6-2018
Customer Testmonial
1-6-2018
Customer Testimonial
7-7-2017
Customer Testimonail
7-14-2017
Customer Testimonial
7-28-2017
Customer Testimonial
6-28-2017
Customer Testimonial
6-28-2017
Read More
Whether you've been in an unfortunate accident, or you're in need of minor repairs, our body shop here at Garber Chevrolet Highland can help you out. We understand that there's nothing worse than a damaged vehicle. Luckily for you, our knowledgeable technicians will get your car back in running order, so you're safely driving down Route 41 in no time. If you have any questions or inquiries, please don't hesitate to contact us!
Dents, scratches, chips, or body reconstruction, we can handle it all here at our dealership. If you think it's something that you can fix or cover up yourself, our Parts Department sells touch-up paint and other various pieces to help enhance the appearance of your vehicle, but sometimes the damage needs a professional. Our team members in the body shop work on a variety of different makes and models, so you can rest assured that your vehicle is receiving the proper care. Depending on the damage, we might need the vehicle for a couple of days. While we're getting your car back into tip-top shape, you'll be happy to know that we offer complimentary loaner vehicles, so you don't have to worry about finding a ride back and forth to work. We'll keep you updated on our progress and let you know if we find any additional issues that need attention.
At this point, you've probably decided it's time to visit our body shop. To get ahead of the game, you can fill out a form right here on our comprehensive website. You can begin the process by clicking on the Body Shop tab above where you'll find a few empty fields. The form will ask you for vehicle information, such as your make, model, year, color, condition, and if it's drivable. If your vehicle isn't drivable, don't worry! In the Service Request Information at the bottom of the page, you can request for towing. In addition to that, we'll need you to fill your insurance information within the form. When you're finished, click submit and one of our staff members will review it and give you a call to schedule an appointment. We like to make things easy!
Whatever the damage may be, our body shop near Hammond, IN, can take care of it for you! You'll be happily driving down Route 20 as soon as possible. We're conveniently located at 9700 Indianapolis Blvd. in Highland, IN, and hope to see you soon!
Body Shop Hours
(877)-721-6775
| | |
| --- | --- |
| Monday | 8:00 am - 5:00 pm |
| Tuesday | 8:00 am - 5:00 pm |
| Wednesday | 8:00 am - 5:00 pm |
| Thursday | 8:00 am - 5:00 pm |
| Friday | 8:00 am - 5:00 pm |
| Saturday | Closed |
| Sunday | Closed |